St Cloud covers the slopes overlooking the left bank of the Seine opposite the Bois de Boulogne. Its park has long been known and is one of the most popular walks in the Paris suburbs, particularly on summer Sundays and during the popular Feast of St. Cloud or Rock en Seine. For several centuries, St. Cloud has been in the same way that Versailles, claim to have been one of the most important cities in the history of France, which is today one of French towns where average wealth per capita is the highest.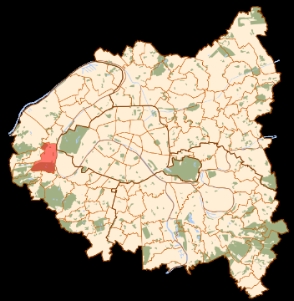 View of the town of Saint-Cloud in red on the map of "Small Crown" Ile-de-France
St. Cloud is a suburb west of Paris 9.9 miles west of Notre-Dame de Paris. The city is located 3 km from the Porte de Saint-Cloud and the Porte d'Auteuil (16th arrondissement Paris). The town is bordered to the north by SuresnesTo the west by Rueil-Malmaison, Garches and Marnes-la-Coquette and south Sevres and Ville d'Avray. Its eastern boundary is indicated by the Seine which separates the town of Boulogne-Billancourt and Paris (Bois de Boulogne) Through the gateway Avre.